Gabriela Schmidt
Nihon University
Coordinator of JALT CEFR & LP SIG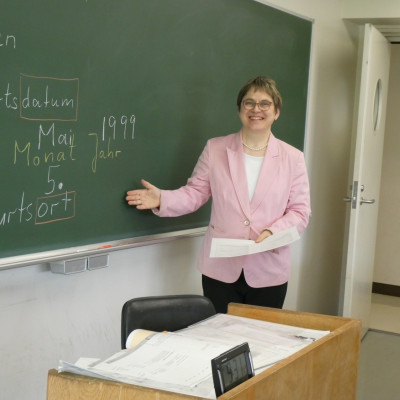 ---
Sessions
Sun, Jun 21, 15:45-16:20 JST
A meeting to discuss next year's conference.
Sat, Jun 20, 12:00-13:20 JST
This Forum is an open CEFR – Talk. CEFR & LP SIG members and anyone who is interested in the CEFR, the CEFR/CV and related topics are kindly invited to this lunchtime talk on the CEFR. There are various topics to share: First is the new research project (Kaken) on "Language Education reform using action research: Consulting the CEFRs educational principles" 「アクションリサーチの手法を用いた言語教育改善: CEFRの教育理念を参考にして」. We are looking for people getting involved using the CEFR and doing action research. Second, the recent development in remote emergency teaching could be an incentive to do research on online teaching and the CEFR & CEFR/CV, discussing and adapting for example related 'Can Do' descriptors. Third, other fields were CEFR & CLIL (conference in October), CEFR & tasks for teaching/assessment, CEFR & mediation, ... As format for the forum this could be a general talk (all) or with breakout sessions (thematically). The new normal opens up different pathways. Looking forward meeting people interested in the CEFR! You are welcome!
Sun, Jun 21, 16:30-17:00 JST
Some closing comments about PanSIG2020 and looking forward to the next time we get together.